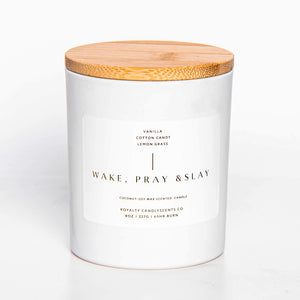 Introducing our luxury candle, designed for those who were born to slay. Start your day right with the invigorating citrus blend of lemongrass, lime, and orange, complemented by the sweet essence of cotton candy and warm vanilla.
With an impressive burn time of approximately 60 hours, this candle is crafted using 100% soy or coconut wax with no additives. We prioritize quality and safety, utilizing all-natural cotton wicks and phthalate-free fragrance oil.
Each of our candles is lovingly homemade and poured in small batches, ensuring exceptional attention to detail. Elevate your space with our empowering fragrance and indulge in a truly luxurious experience.